About NDiSTEM & SACNAS
For 49 years, SACNAS has served as an inclusive organization dedicated to fostering the success of Chicano/Hispanics & Native Americans, from college students to professionals, in attaining advanced degrees, careers, and positions of leadership within STEM. Today, the organization serves a growing community of over 28,000 supporters including nearly 8,000 members and 133 student and professional chapters throughout the United States, including Guam and Puerto Rico. SACNAS influences the STEM diversity movement through STEM outreach & advocacy, promotion of STEM leaders, and The SACNAS National Diversity in STEM (NDiSTEM) Conference.
NDiSTEM is the largest multidisciplinary and multicultural STEM diversity event in the country, a true celebration of science, culture, and community which serves equips and energizes participants for their academic and professional paths in STEM. Over the course of the event, college-level through professional attendees are immersed in STEM research, professional development sessions, motivational keynote speakers, a Graduate School & Career Expo Hall, multicultural celebrations and traditions, and an inclusive and welcoming community of peers, mentors, and role models. Simply put, the SACNAS conference is a broadly inclusive space where you are invited to bring your whole self to STEM. Learn more about SACNAS at sacnas.org, Facebook, or Twitter. 
The 2022 SACNAS NDiSTEM Conference will be held
Dates: October 27 to 29, 2022
Location: Governor Pedro Roselló San Juan Convention Center
100 Convention Blvd, San Juan, Puerto Rico, 00907
About Puerto Rico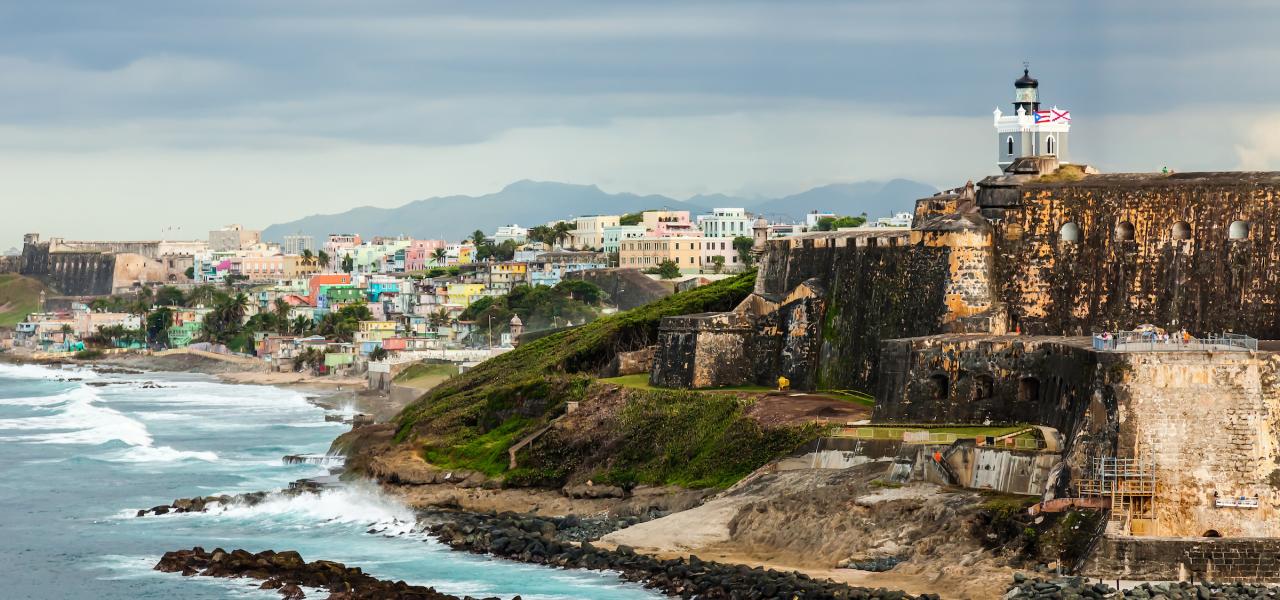 photo courtesty of Discover Puerto Rico
While called by many La Isla, Puerto Rico is an archipelago of islands with the largest being the main Island of Puerto Rico (about the size of Rhode Island), island-municipalities of Vieques and Culebra and Mona Island similar to Galapagos in Latin America. Puerto Rico has ties to Caribbean, Latin America and the United States. Legally Puerto Rico has never been independent – some define it as a "colony" of the United States since 1898 and prior to that with Spain since 1493.
Official languages: Spanish and English. Spanish is the predominant language spoken by residents of Puerto Rico.
💚 Visitors can easily communicate in English in most instances, however not everyone speaks fluent English, especially if you go explore around areas outside of the metropolitan area. 
People: Puerto Ricans are often defined as a mix of Spanish ('white'), African and Taino indigenous races. Cultural politics can be controversial. It is contested if all three groups are alive and represent Puerto Rican sense of "national"/cultural identity – some scholars refer to Puerto Rico as a "cultural nation" since it has no citizenship other than US citizens ("second class citizenship"), no currency (US dollars) and never been independent.
💚 Important note: Puerto Rico/Puerto Ricans continue to face multiple crises (COVID pandemic; bankruptcy, austerity measures and a decades-long economic recession; earthquakes; hurricanes; and frequent electric power outages, among others). During your stay, please be patient and practice grace.
What to Bring
For During the Conference
Business Casual Attire:

This includes traditional dress, regalia, jewelry, and other items to share your culture with our community!

Please also bring nice, comfortable shoes to walk throughout the convention center. (Pajamas,

shorts, or sandals are not appropriate for the conference.)

Proof of vaccination (💚 see COVID Policy & requirements on

https://www.sacnas.org/conference#faq

)
Face masks
Valid Government issued ID or Driver's license
For Around the Island
Power Bank/Charger

: As situations with the electric grid can be very unpredictable, it is advised that you bring a power bank and keep it charged in case of power outage at any point during your stay. If power goes out for a long period, it is very likely that there will be

a

long lines to get gas, however, most households, buildings, hotels, gas stations, shops, etc. are equipped with electric generators. 

Hat and Sunscreen

: The sun in the Caribbean is brutal, many of the beaches and other outdoors areas around the convention center do not have good shade, bring a hat and wear sunblock. 

Shop Local

: When possible, shop local businesses to purchase any additional items you forgot.
Terms to Know
Feel free to say "Hola, ¿cómo estás?" to locals, that is another way to say "Hello" or "Hi". 
When visiting local places, it is common courtesy to greet people when you arrive with a "Buenos días" (good morning) or "buenas tardes" (good afternoon). And when leaving you may say "buen día" (good day), "buenas tardes" (good afternoon) or "buenas noches" (goodnight). 
It is also common courtesy to say "buen provecho" when you are close to someone that is eating. It is a local way of saying "enjoy your meal". 
If need to walk between two people talking, it is common courtesy to say "con permiso" (equivalent to excuse me, although the translation is, with your permission). 
It is very likely that you will hear the endemic frog Coqui, at night. Enjoy them, we love them!  
Pava is a traditional hat used by sugar cane cutters, coffee pickers, and other agricultural workers in Puerto Rico. Another symbol of national/cultural identity. 
Salsa and Bomba (afro descent) are major music rhythms and at times you may find "live music" and dancing in San Juan metro.
Flor de maga is the national flower
Due to out

-

migration

,

like after hurricane Maria, another concept is a "a nation on the move to discuss the vaiven (coming and going) of local residents and its diaspora –a revolving door to/from Puerto Rico.

Things NOT to say:
Don't say someone has good English despite living here. 
Don't say someone doesn't look Puerto Rican, we come in all shapes, sizes, and colors. 
Etiquette
BUSINESS HOURS: Due to the pandemic, many businesses may be changing their hours to match ordinances and it is possible a business might be unexpectedly closed due to an outbreak. For this reason, it's advised to not solely confide in information you see on google regarding a business's hours. If there are specific restaurants or activity venues that you want to go to, to be on the safe side, check their FB, IG, and even call to make sure that they are open if google says they are open. 

DINING OUT: Since the pandemic, many places are operating with less staff than usual so if wait times for a table or food are long, be respectful of that and be respectful to your waiter.

BEACHES: If you visit our beaches or any of our nature reserves, leave them clean. Many beaches don't have somewhere to throw away your trash, so have somewhere (trash bag) to store your trash and properly dispose of it when you can. 
Transportation
💚 IMPORTANT ADDRESSES:
GETTING AROUND
Rush hours in the San Juan are 7-9 AM and 4:30 to 6:30 PM.   

If you would like to travel somewhere significantly far from the

metropolitan area (click here for map)

, it is advised to rent a car. Uber and public transportation systems do not operate in most towns outside of the metro area and it will be very hard to find an Uber willing to leave this area. 
💚 When exploring the island, have cash (including loose bills and quarters) on hand for Taxis or Bus fare.
UBER OR LOCAL TAXIS
Many places outside of tourist areas don't have spots in front of them where cars can stop. If you order an uber, please be outside waiting for them to arrive so you don't make them wait in the middle of the road for you or have to circle around for you.  

Unless you are in a tourist area with designated taxi areas, you will not see taxis driving around and will have to call a taxi company. If you do this, make sure you ask about the fair and have cash available as many drivers do not use apps.

There are not many ubers or taxis outside of the metro area.  
PUBLIC TRANSPORTATION (BUS)
There is a bus system, and a metro rail (called Tren Urbano). 

Bring loose bills and quarters if you will utilize the bus or metro rail. While the train does have kiosks that sell passes and take credit cards, it is extremely unpredictable to know if the credit card option will be working or not. 

Buses (called Guaguas) can be difficult to use so it is advised to look up routes and schedules ahead of time to avoid any scheduled events due to being on the wrong bus, getting off and on the wrong stop or a bus being late.  

The metro rail only travels a short route between Santurce and Bayamón. It is advised to look up the location of the stations and location of your destination to see if this is a viable mode of transportation. Furthermore, at stations look out for signs indicating the direction in which the train is going. "Bayamón" means the train is heading towards Bayamón and "Sagrado" means it's heading towards Santurce.  
RENTAL SCOOTERS
Scooter rentals are available. It is recommended to ride scooters on the sidewalk, and when done always return to this side of a walking path (not in the middle of the path). 
PARKING
Anywhere you go, white lines mean you can park, yellow lines mean you can't. However, if in Viejo San Juan, even if the lines are white, lookout for signs that say certain areas are for residents of VSJ.
Safety
DURING THE CONFERENCE:
The legal drinking age in Puerto Rico is 18. However, please note that SACNAS' code of conduct establishes a drinking age of 21 years or older.  
AROUND THE ISLAND:
PEDESTRIANS: Most places here don't have crosswalks with pedestrian lights, you just cross when you get a chance to. If you ever need do this, please be careful! 

BEACHES: Lookout for signs or red flags at beaches indicating if the current is unsafe. Northern and west beaches (like in the northwest in Isabela and Aguadilla, and on the west in Rincon is known for surfing) can have strong currents and tides. As a sharp contrast

,

the Caribbean Sea on the south region of Puerto Rico offer

s

beaches that are shallow, calm and warm seawaters – great for bathing during beach visits.

In general, when going to the beach or going out at night go in a group and if separated from the group try to always have a buddy system in place. 

RIVERS: If you want to visit a river, don't do it on a rainy day, or the day after, as a flash flood might occur.
Food
💚 Conference-provided meals will be as follows. All other meals are on your own. Please refer to sacnas.org/conference for the latest information.

Thursday Lunch (boxed)
Friday Lunch (boxed)
Saturday Lunch (boxed)

If you are vegan, vegetarian or have other dietary needs, it is advised that you research places to eat at if you would like to eat out. While many local places do not offer vegan safe meals, there are several vegan and vegetarian restaurants in the metropolitan area. You may consider Placita Roosevelt or Local Plaza Mercados where you can find produce and light options.  

Many dishes (beans, rice –and even white rice sometimes is cooked using pork fat), stews and soups) in Puerto Rico can contain pork products, if you have a dietary restriction make sure to ask about this directly.

One of Puerto Rico's most recognizable dishes is mofongo (mashed plantains).  

You may find seafood if you go to specific areas in the metro or elsewhere in the main island of Puerto Rico. Rural coasts have had traditional artisanal fisheries like it is common in the Caribbean and Latin America societies.  
Places to Visit (before or after the conference 😊)
Consider tourist and recreation options like tours or field trips that offer cultural and/or environmental interpretation if possible, by local experts, residents and their communities.

Northeast (1 hour drive from San Juan/tour options): Puerto Rico has the only rainforest in the USA: UNESCO Biosphere Reserve El Yunque National Forest. Consider visiting the new Visitor Center. Hikes to key areas like "miraderos"/observation towers may take longer (like double the time) than estimated times after hurricane Maria. If you plan on visiting El Yunque, you must make a reservation. You can make the reservation up to a month in advance on

http://Recreation.gov

(exceptions are not allowed)

Southwest (2.5 hour drive from San Juan):

UNESCO Biosphere Dry Forest or Bosque Seco

– visit for hikes or spend your time in one of the rural and forest beaches with the least construction near or on the coasts of Puerto Rico. 

(Central/South 1.5 hour drive from San Juan) Centro Ceremonial Indígena de Caguana (Caguana Indigenous Ceremonial Center) in Utuado. No need for reservations. Monday-Sundays. 8:00am-4:20pm. Phone 787-669-1866  

Centro Ceremonial Indigena de Tibes (Tibes Indigenous Ceremonial Center) is located on Rte. 503, Km. 2.2 in Barrio Tibes in Ponce, Puerto Rico. A museum and archaeological sites are open. No need for reservations. 8:30am-3:00pm, Tuesday-Sunday. REMEMBER TO Call 787-840-2255 for up-to-date information based on COVID protocols, etc. Admission is $3/adult, $2.50 children under 12, half price for seniors older than 62 years. Cash only. 

UNESCO Patrimony of the Humanity

(In Spanish Patrimonio de la Humanidad) entire Old San Juan – walk/by foot options, galleries and museums, church (e.g., San Jose church open and remodeled) and national parks and historical houses and buildings – some are provided by professional society like Architects. 

Miramar is near the Old San Juan, which you may walk to/from, and also consider movies and theater options.  

Boat options like to rides in the San Juan Estuary and evening tours for seeing coastal bioluminescence in bioluminescent bays may be available. Prices will differ if tourist options like $60 plus dollars for a kayak evening 2-hour tours (6pm or 8pm) in the Fajardo bioluminescent bay in Las Croabas (about 1 hour drive to/from San Juan). Educational tours may require online RSVP and can be in Spanish and English paying modest fees ($10-$25) such as by Para La Naturaleza; Las Cabachuelas ecotourist cave/protected area options in Morovis (find in facebook); check out Facebook Voy Turisteando page (local residents may look), among others. 

Urban beaches

near San Juan –all beaches in Puerto Rico are legally public areas, regardless of whether they are located next to a hotel or private residence. Carolina and Loiza are near San Juan and offer some beaches that are open access like those located in front of the hotels.

Other beaches you pay for parking and other services like Blue Flag Balneario de Carolina next to the airport. Another group of beaches known as "La Pocita" are in Piñones, Loiza. Piñones has coastal beach front area, a forest mangrove area, and a historical and cultural stop with an afro-descendant population, lots of places to eat with sea view, including a boardwalk for bikes and walks and nearby a few beaches. Participants may enjoy lunch, a local way of hanging out known as "chinchorreo", and plan for their return on their own transportation (taxi/other). Estimate about 15-20 m

i

ns drive to/from the city center .
Local SACNAS Chapters
SACNAS chapters both student and professional, are a source of community that has generated a powerful peer network working to achieve the SACNAS mission at the local, regional, and national levels across the country. SACNAS is extremely proud to have chapters at:
💚 Consider becoming/upgrading to Professional level 3 SACNAS membership for a portion of your member dues to go to a SACNAS chapter of your choice. This is a great way to support Puerto Rican chapters!
Acknowledgements
This guide would not be possible without the contributions of the following SACNAS Cultural Advisory Group members. THANK YOU!
Kevin M Alicea Torres
Roy A.J. Brooks Rivera
María Burgos
Alexandra Colón-Rodríguez
Mónica Feliú Mójer
Yaihara Fortis Santiago
Stephanie Guerra
Patricia Irizarry
Yareni Lara Rodríguez
Kermin Martínez-Hernández
Ingrid Montes
Janiret Narváez
Sindia Rivera-Jiménez
Juan Rodríguez
Darsy Smith