Why Present at NDiSTEM?
Benefits of presenting a session include:
Contributing to advances in your field
Reaching the SACNAS Community
Networking within your field and beyond
Serving as a role model
Discounted registration for Speakers who serve as Mentor Judges

Session Topics and Featured Tracks
SACNAS hosts two different kinds of sessions throughout the annual NDiSTEM Conference:
STEM Symposia: discipline specific sessions
Professional Development: trainings and informational workshops
Certain topics from these two types of sessions will be highlighted throughout the 2023 Conference. Here are the 2023 Featured Tracks: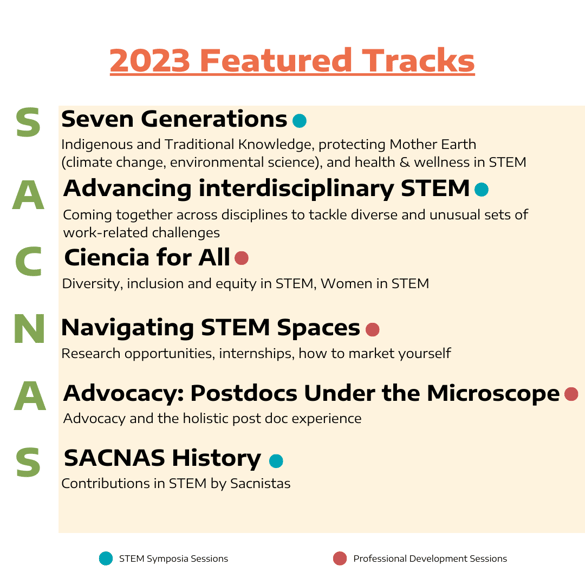 STEM Symposia Session Type
STEM symposia sessions share cutting-edge research, ideas, and industry knowledge from community members who are experts in their STEM disciplines. This includes original research, advancements, and multidisciplinary approaches to the STEM fields.
Format and Requirements:
Style: A moderated series of presentations discussing papers or technical talks followed by a Q&A.
Speakers: A maximum of four speakers and one chair are required.
Format: the 2023 NDiSTEM conference is 100% in-person, and session speakers will be required to attend on-site in Portland, Oregon.
Talks: A minimum of three individual talks are required.
Time: Total 75 minutes – approximately 10-15 minutes per talk, including a session introduction and a closing question and answer period managed by the chair.
Audience: STEM students, postdocs, and professionals.

Featured Tracks:

Seven Generations - Indigenous and Traditional Knowledge, protecting Mother Earth (climate change, environmental science), and health & wellness in STEM

Advancing interdisciplinary STEM - Coming together across disciplines to tackle diverse and unusual sets of work-related challenges

SACNAS History - Contributions in STEM by Sacnistas

Professional Development Session Type
Professional development sessions provide our attendees with guidance and training in beyond-the-bench skills. Support your intended audience with developing professional skills to help them refine their career choices and/or make successful transitions.
Format and Requirements:
Style: The goal is to have active audience engagement; propose a format that suits your submission best (e.g. interactive panels, hands-on demonstration, skills practice, small group discussion, Q&A, etc).
Speakers: A minimum of two speakers are required, a chair is optional.
Format: the 2023 NDiSTEM conference is 100% in-person, and session speakers will be required to attend on-site in Portland, Oregon.
Time: Total 75 minutes.
Audiences: Undergraduates, grad students, postdocs, and professionals – you may tailor your session for one or more of these audiences.
Topic Areas: We are interested in sessions relevant to STEM students and professionals at all levels. We are seeking proposals on:

Academic, Industry, Government, Non-Profit, or Policy Career (i.e. Graduate School Application: Developing a Personal Statement)
Mentorship (i.e. Choosing the Right Advisor)
Networking (i.e. Using Social Networks Professionally, How to Build/Expand your Network of Support)
STEM Policy/Ethics (i.e. Ethical Issues, Career Opportunities in STEM and Policy)
Skills for Success (i.e. CV/Resume 101, Management Skills for Scientists)
Featured Tracks

:

Ciencia for All - Diversity, inclusion and equity in STEM; Women in STEM
Navigating STEM Spaces - Research opportunities, internships, how to market yourself
Advocacy: Postdocs Under the Microscope - Advocacy and the holistic post doc experience

How to Submit a Proposal
You may access the portal here
1. Log-in or Sign-up on the Submission Website
This call for proposal is open to the wider SACNAS Community and a membership to the organization is not required for this program.
SACNAS Members: All existing SACNAS members must use their SACNAS login. After logging in, you will be prompted to share your membership profile with the online submission portal – this will help auto-populate your information in the proposal form. After sharing your profile, you will automatically be redirected to the home page to start a proposal. 
Non-members can register a new account by clicking on My Account and either logging in using their pre-existing credentials or by creating a new user account on the right-hand side. If you have you have a SACNAS membership account associated with your email address you will not be able to create a new account.
2.
Start a proposal
Once you are logged in you will find yourself on the mainpage, from there:
Scroll to "Sessions Presentation" and click on the link to begin a proposal. You can save your proposal and return to complete it at your convenience by clicking "Save" at the bottom of the submission form.
3. Submit a proposal
The deadline to submit a proposal is Friday, April 3, 2023, at 5pm PT. 
To return to an existing proposal, log back into the platform and navigate to "My Applications" and you'll find the proposal under the "Incomplete" category.  
Once you are ready to submit your proposal for review, open the proposal and navigate to the last page and click "Submit Proposal for Review" – submitted proposals can no longer be edited, if you are not done yet simply click save at the bottom of the window.
Once a proposal is submitted a confirmation page will appear with next steps. The person listed as the Point of Contact in the submission form will receive a confirmation email and all communications moving forward. 

Collaborate on a Proposal
Will you be working with others to submit a proposal? This year we have added a collaborative feature to the submission portal! Once a proposal is created you can add and remove editors to the proposal, but only the owner can submit it for review. For detailed instructions click here

Criteria and Review /Process
Scoring Rubrics are available to help you fill out the submission form:
Proposal Selection takes place in three phases:
Volunteer Review*: completed submissions are reviewed by independent STEM volunteers using the rubrics above
Committee Review: submissions are then reviewed by a working group from the SACNAS Conference Subcommittee
SACNAS Staff selection: finally, all scores are aggregated to help SACNAS select the best sessions for the conference
All submitters will be notified of the status of their proposal at the beginning of June.
*Volunteer reviewers cannot be affiliated with a proposal, for more information on volunteer requirements visit HERE.

Speaker Requirements
Session speakers, which include chairs, panelists, presenters, moderators, and any other role that requires participation in a session, are expected to meet the following requirements:
Attend the NDiSTEM Conference in person. The 2023 NDiSTEM Conference will take place October 26-28, 2023 in Portland, Oregon. In the event a speaker can no longer attend in person, it is recommended that their talk is pre-recorded and the video file downloaded to a USB key to play onsite by another speaker present.
Registration for session speakers is required by September 1. Discounted registration will be provided to Session Speakers who serve as Mentor Judges. Registration fees are dependent on the speaker's career level, membership status, and how early they register. SACNAS does not issue refunds - any registration fees paid in full cannot be refunded - in full or in part.
Sign the SACNAS Code of Conduct at the time of registration.
Keep the session to the 75 minutes provided.
NDiSTEM is a noncommercial forum and under no circumstances may a breakout session be used as a place for direct promotion of a presenter's product, service or monetary self-interest. Sales pitches disguised as presentations will not be considered.
Session speakers will be disqualified from reviewing session proposals but are welcome to review student applications.

Additional Questions or Need Help?
If you need further assistance, please email the SACNAS Conference & Events Team at sessions@sacnas.org.