SACNAS President Sonia Zárate selected the awardees who represent the highest level of sustained contribution to the organization
SANTA CRUZ, CA —
Society for the Advancement of Chicanos/Hispanics and Native Americans in Science (SACNAS) will honor Arizona State University Professor Erika T. Camacho, PhD and Associate Dean of the University of Texas Rio Grande Valley College of Sciences, Cristina Villalobos, PhD with the 2020 Presidential Service Awards at its annual conference centered around science, mentorship, professional development, and networking. SACNAS Presidential Service Awards recognize members based on their years of continued contributions to SACNAS. This year's awardees were selected by SACNAS President Sonia Zárate.
"The Presidential Service Awards honor individuals with a demonstrated long-term commitment to the SACNAS mission. This year, we honor two individuals that have demonstrated this commitment at the national level and locally—Dr. Cristina Villalobos and Dr. Erika Camacho. Having served on the Board with both of these Mathematicians, I can say that their passion for mentorship is unsurpassed and their service to the STEM community is the measure we should all aspire to," said SACNAS President Sonia Zárate.
The award ceremony will take place on Saturday, October 24 at 11am PT / 2pm ET during 2020 SACNAS – The National Diversity in STEM Virtual Conference. 2020 SACNAS is the largest multi-disciplinary and multicultural STEM diversity event in the country, bringing together a diverse community of historically excluded populations of STEM students and professionals, partners, and allies. This year's conference will be held virtually for the first time from October 19 – 24, 2020.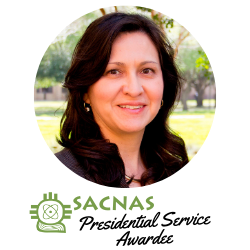 2020 SACNAS PRESIDENTIAL SERVICE AWARD
Cristina Villalobos, PhD
Myles and Sylvia Aaronson Endowed Professor Associate Dean, College of Sciences Founding Director, Center of Excellence in STEM Education, University of Texas Rio Grande Valley
Dr. Cristina Villalobos holds the Myles and Sylvia Aaronson endowed professorship in the School of Mathematical and Statistical Sciences (SMSS) and is Associate Dean for Strategic Initiatives and Institutional Effectiveness in the College of Sciences at the University of Texas Rio Grande Valley. Moreover, Dr. Villalobos is the Founding Director of the Center of Excellence in STEM Education, which focuses on strengthening STEM academic programs and providing resources for the academic and professional development of faculty and students, especially increasing the numbers of underrepresented students attaining STEM graduate degrees. Dr. Villalobos served as Interim Director of SMSS from 2015-2017 transitioning the school through the first two years of UTRGV. She has over 30 publications in optimization, optimal control, and STEM education. Her recognitions at the national level for mentoring and STEM leadership can be summarized with the 2019 Presidential Award for Excellence in Science, Mathematics, and Engineering Mentoring awarded by the White House. Dr. Villalobos served on the SACNAS Board of Directors (2015-2017). She is a Ford Foundation Fellow and Alfred P. Sloan Scholar. Dr. Villalobos was born and raised in the Rio Grande Valley of Texas, is a first-generation college graduate, and received her Bachelor's degree in Mathematics from the University of Texas-Austin and her Ph.D. in Computational and Applied Mathematics from Rice University in 2000.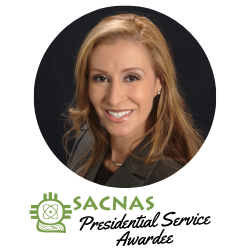 2020 SACNAS PRESIDENTIAL SERVICE AWARD
Erika T. Camacho, PhD
Professor / Program Officer, Arizona State University / NSF
Dr. Erika Tatiana Camacho is NSF Program Director for the ADVANCE and HSI programs as well as a co-Lead for the latter. She is a Full Professor in Applied Mathematics at Arizona State University. She published the first set of mechanistic models addressing photoreceptor degeneration, providing a new framework to mitigate blindness. Her leadership, scholarship, and mentoring have won her numerous national and regional recognitions including the 2019 AAAS Mentor Award, the 2014 PAESMEM award from the White House, the 2020 AWM Louise Hay Award for Mathematics Education, the 2018 AAHHE Outstanding Latino/a Faculty in Higher Education Research/Teaching (Research Institutions) Award, the 2017 Great Minds in STEM Education Award, the 2012 SACNAS Distinguished Mentoring Award, and the 2011 Hispanic Women's Corporation National Latina Leadership Award among many other national awards and honors. She was a 2013-2014 MLK Visiting Assistant Professor of Mathematics at Massachusetts Institute of Technology (MIT).
For over 47 years, SACNAS has served as an inclusive organization dedicated to fostering the success of Chicano/Hispanics & Native Americans, from college students to professionals, in attaining advanced degrees, careers, and positions of leadership within STEM.
Today, the organization serves a growing community of over 28,000 supporters, including 8,200+ members, and 118+ student and professional chapters throughout the United States and Puerto Rico. SACNAS influences the STEM diversity movement through STEM outreach & advocacy, promotion of STEM leaders, and The SACNAS National Diversity in STEM Conference. Learn more about SACNAS at sacnas.org, Facebook, or Twitter.