By Asis Lopez
Candice Limper, a Ph.D. student in the College of Veterinary Medicine at Cornell University attended the 2017 Chapter Leadership Institute when she was the SACNAS Chapter President at California State University, Los Angeles. Candice says she has learned, "how to stay organized using Trello to manage projects, deadlines, and her team". This platform has helped organize her website "LimperScience.org – Grad School Advice for First Generation Students", that provides academic advice first-hand from first-generation college students to first-generation college students who are interested in pursuing higher education, such as the process to graduate school, something not easily accessible to many. Two CLI 2017 cohort members, Samuel Goodfellow and Roberto Carlos Segura, have assisted with writing for the website and can be found on the advocates page. Students who attended the first 2017 CLI cohort continue making significant impacts in their communities.
With support of the Genentech Foundation, SACNAS will be hosting its second Chapter Leadership Institute (CLI) at San Jose City College from August 3-5, 2018. SACNAS chapter members from the United States, Puerto Rico, and Guam are invited to apply and connect at a national level with other student leader scientists.
A Pilot Program Takes Off
SACNAS' first 28 member CLI cohort of 2017 was drawn from local SACNAS student members attending community colleges and four-year institutions in California. Participants traveled an average of 194 miles to attend the CLI at San Jose Community College in San Jose, California.
Last year's CLI significantly helped the Bay Area SACNAS chapter network to strengthen and grow. For instance, due to the proximity of the institute to the University of California, San Francisco (UCSF) and San Francisco State University (SFSU), both chapters have been able to build a close relationship. "UCSF graduate students can help SFSU undergraduates thus tailoring programs/workshops to their needs", says Melissa Spear, UCSF SACNAS Chapter Secretary and 2017 CLI alumna.
STEM Equity and Leadership Coaching
In addition to the CLI being open to participants across the country, CLI 2018 is adding leadership coaching. As a complement to the training, participants will meet with a leadership coach for several sessions after the institute. Dr. Yvonne Rodriguez, a STEM Equity and Leadership Coach, will work with participants as they implement their leadership development plans and work to achieve their goals as SACNAS Chapter Leaders. Coaching will help students develop and maintain a crystal clear vision, identify and address limiting beliefs, and create strategies to overcome obstacles. Dr. Rodriguez, past Director of Programs and Deputy Director at SACNAS, is the founder and CEO of YW Consulting (YWC). YWC works with individuals and organizations to maximize the contributions of underrepresented minorities and Women in STEM. Dr. Rodriguez received her Ph.D. in Physics from UC Santa Cruz and an MBA in Innovation & Leadership from Bentley University. She was trained as a Career and Life Coach at UC Davis.
Samuel Goodfellow is a current SACNAS Chapter President and a graduate student at SFSU who attended the 2017 CLI. He attended the CLI, because his goal was to run for the SACNAS president of the SFSU Chapter where he could "be a leader at a local level and build up [his] skills to lead at a national level, such as running for the graduate student SACNAS Board Member position, and upon finishing the Ph.D., eventually become a science policy leader."
Ways to Participate
SACNAS and the Genentech Foundation will be covering registration, food and lodging. The resourcefulness of several chapters and advisors is enabling their members to attend the 2018 SACNAS CLI. At the University of Hawai'i, current SACNAS Board Member Dr. Healani Chang is working with her chapter where their Student Union will be assisting with funds. At the University of Guam students will ask the University, with the aid of past Board member Dr. Austin Shelton, to send up to three students to the CLI. Students at the the University of New Mexico (UNM) SACNAS Chapter will be fundraising.
As long-time member and UNM Chapter Advisor who wholeheartedly embraces the SACNAS mission, Dr. Nancy Hurtado-Ziola mentioned, "this is a goal student SACNAS chapters should aim for, it is one way for chapters to set fundraising opportunities". Fundraising travel to the CLI requires leadership initiative. Once at the CLI it will provide invaluable skills to develop the potential in leaders.
A National Network
If you are not familiar with SACNAS and its nation-wide Chapters, including Puerto Rico and Guam, and would like to get involved, contact your local chapter. Additionally, if you are interested in a leadership role: as a SACNAS Board of Director, a student council member in your specific discipline, or in another STEM leadership capacity, apply to the 2018 CLI.
---
2017 Participating Academic Institutions
California State University, Channel Islands – 1
California State University, Los Angeles – 1
California State University, Sacramento – 2
Los Medanos College – 4
San Francisco State University – 2
San Jose City College – 3
University of California, Los Angeles – 3
University of California, Merced – 3
University of California, San Diego – 1
University of California, San Francisco- 2
University of California, Santa Cruz – 2
University of La Verne – 4

---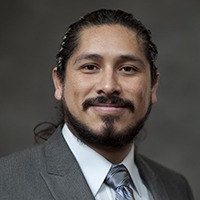 About the Author
Asis Lopez is a long-time SACNAS Member, past Board Member, and past staffer. He is an advocate for students and student leadership in STEM.
Asis received his B.S. from the University of California, Santa Cruz in Bioengineering with an emphasis in Medical Rehabilitation. As an undergraduate, he conducted three years of research on medical robotics. At the University of California, San Francisco he worked with the UCSF Children's Hospital Pediatric Device Consortium and collaborated with the Department of Bioengineering and Therapeutic Sciences to create a non-implantable prototype medical device for the medical condition pectus carinatum. Through this interdisciplinary collaboration he found his passion for translational research. The Bioinnovation Program at Tulane University's Biomedical Engineering Department promises to be a good fit for Asis as it combines his passion for translational research and business with his objective to make needed medical devices. His focus is on High-Intensity Therapeutic Ultrasound Devices, where he is researching thresholds for microvasculature rupture in the brain that will help quantify safety thresholds for transcranial ultrasound procedures such as tumor ablation and clot lysis.