A new cohort of 20 STEM professionals joins the largest community of emerging STEM leaders of color in the country. The Linton-Poodry SACNAS Leadership Institute (LPSLI) is the hallmark leadership training program provided by Society for Advancement of Chicanos/Hispanics and Native Americans in Science (SACNAS).
Founded in 2009 by Clifton Poodry, Ph.D. (Seneca) and Marigold Linton, Ph.D. (Cahuilla-Cupeño), both founding members of SACNAS, LPSLI is the country's premier training for motivated underrepresented minority (URM) scientists, laying the foundation for them to lead institutional transformation.
Supported in part by Genentech, the LPSLI is an intensive five-day course featuring small group exercises, keynote speakers, leadership development planning, networking opportunities, and extensive community building among selected participants. This year, participants also received support from their institutions, indicating they truly see the value of their employees in attending LPSLI.
Linton, the Director of American Indian Outreach at the University of Kansas and past-president of SACNAS said, "I was concerned that SACNAS' PhDs were not going on to high level leadership positions.  We created the LPSLI to produce leaders who will change the face of science."
This year's institute will be held July 18th – 22nd in Washington, DC. Distinguished Scientist speakers include:
Clifton Poodry, Ph.D., Courtesy Professor at the University of Oregon and Emeritus Professor of Biology at the University of California, Santa Cruz

Kenneth Gibbs Jr, Ph.D., Chief, Undergraduate and Predoctoral Cross-Disciplinary Training Branch at National Institute of General Medical Sciences (NIGMS)

David Asai, Ph.D., Senior Director of Science Education at the Howard Hughes Medical Institute (HHMI)

Mary Garcia-Cazarin, Ph.D., Scientific Advisor, Tobacco Regulatory Science Program at the National Institutes of Health (NIH)

Marigold Linton, Ph.D., Director of Indian Outreach at the University of Kansas.
Our 2022 LPSLI Cohort includes: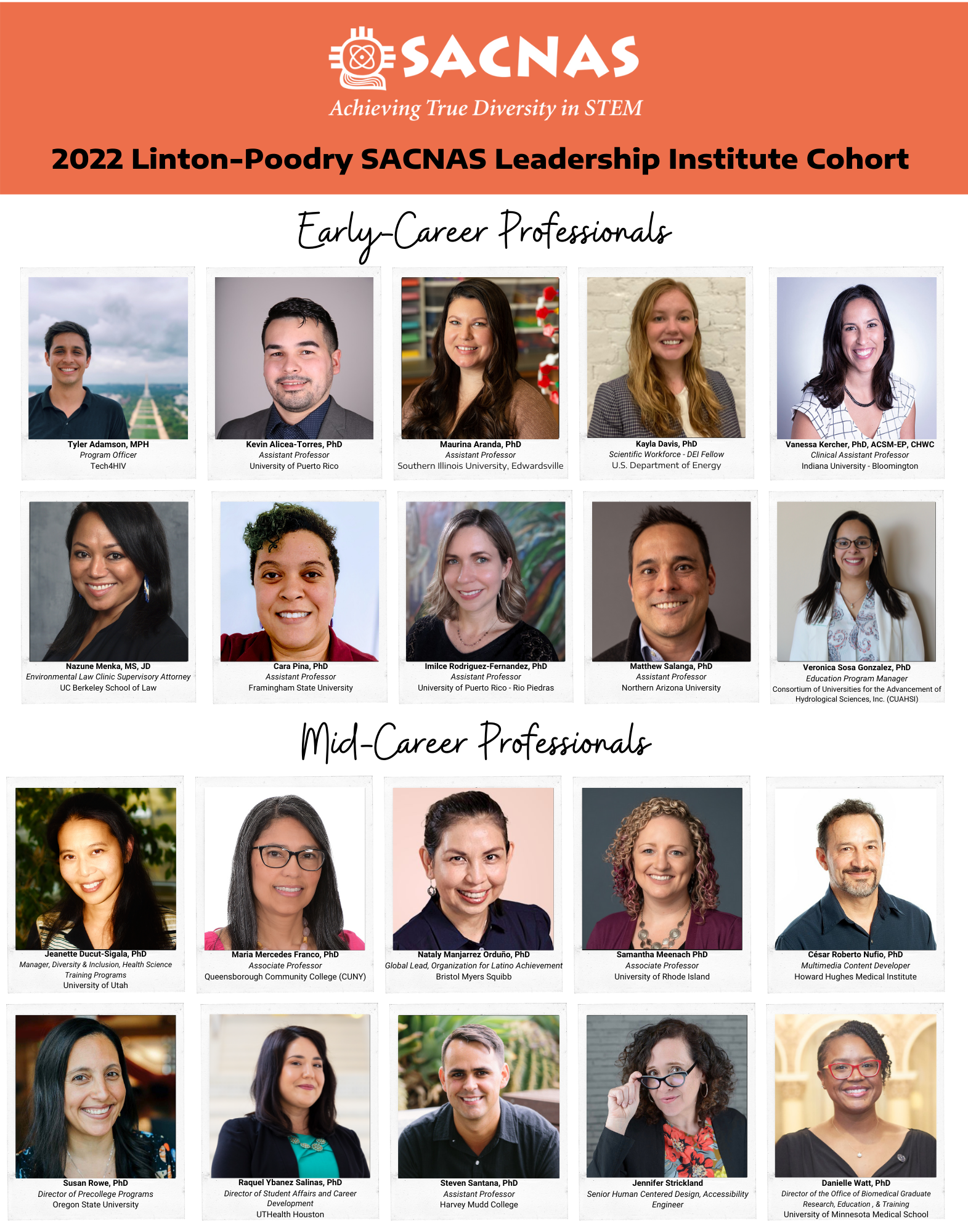 Of the 321 LPSLI alumni, many are now executive directors, program directors, assistant deans, department chairs, entrepreneurs, senior scientists in industry, and emerging science policy leaders.
LPSLI is the first in a suite of three leadership trainings offered by SACNAS in 2022 as the organization transitions back to in-person programming. The programs are dedicated to building the capacity of students and professionals with the necessary leadership skills to advance their education and careers and to lead change at the highest levels.
Follow the Linton-Poodry SACNAS Leadership Institute on social media using: #2022LPSLI
With Support From:

ABOUT SACNAS
For nearly 50 years, SACNAS has served as an inclusive organization dedicated to fostering the success of Chicano/Hispanics & Native Americans, from college students to professionals, in attaining advanced degrees, careers, and positions of leadership within STEM.
Today, the organization serves nearly 8,000 members and has 133 student and professional chapters throughout the United States and Puerto Rico. SACNAS influences a larger STEM community of over 25,000 through outreach, advocacy, and production of the National Diversity in STEM Conference. Learn more about SACNAS on Facebook, Linkedin, Instagram or Twitter.