President Hilda Heine will be the first head of state to address the country's largest STEM diversity conference
HONOLULU, HI — As the leader of an atoll nation on the front lines of the climate crisis, Marshall Islands President Hilda Heine is working to fight climate change before her homeland becomes uninhabitable. The first female head of state of any independent Pacific Island nation, President Heine also serves as a global role model for women in leadership.
Through these roles, President Heine's overarching goal is to encourage a diverse group of global stakeholders to get everyone invested in climate action, which is why she will address the largest multicultural and multidisciplinary gathering of diverse STEM students, professionals, and leaders in Hawai'i on October 31. President Heine's keynote address to 2019 SACNAS – The National Diversity in STEM Conference produced by the Society for the Advancement of Chicanos/Hispanics & Native Americans in Science (SACNAS) will call on others—from heads of states to everyday citizens, especially women and communities of color that are first and worst impacted by the impacts of climate change, to join her and stand united in helping solve our world's biggest challenge.
As the Convenor of the High Ambition Coalition and the Chair of the Climate Vulnerable Forum, the Marshall Islands is leading the global effort for governments around the world to follow their lead in increasing their Paris Agreement before 2020. The Marshall Islands also recently published a landmark 2050 Climate Strategy charting a way to net-zero emissions and is currently developing a National Adaptation Strategy. (Read President Heine's full bio here.)
"As one of only four atoll nations in the world, climate change is already a reality for us. The question now is whether the world can summon the leadership to urgently increase its ambition to get us on a pathway consistent with the Paris Agreement and to avoid the worst impacts that to come. That's why I am so committed to convening as many stakeholders as possible— especially women champions, leaders of color, and diverse STEM students and professionals— with a shared desire to protect our common vital resources. Together, we can fight climate change not only with access to funding and technology but also harnessing the power of traditional and local knowledge," said President Heine.
The 2019 SACNAS conference is a particularly unique and fitting setting for Heine's message as on average 60% of the attendees are women and 66% of the organization's overall membership is female. The SACNAS Board of Directors, which is led by President Sonia Zárate, also boasts a majority of female members (69%), which is significant in terms of STEM gender representation overall as women make up only 28% of the science and engineering workforce.
"Climate change is the biggest challenge we face globally, which is why it's such an honor for SACNAS to have President Heine at our National Diversity in STEM Conference in Honolulu. She is a true leader that models what it takes to make change— a commitment to community and action. We look forward to being inspired by President Heine and learning about opportunities to fight climate change within our respective STEM fields of work and study," said SACNAS President Sonia Zárate.
Climate change research is a featured track of this year's National Diversity in STEM Conference with sessions led by scientists of color and indigenous scientists across an array of STEM disciplines with a special focus on the science of climate change on island communities. (Learn more about how SACNAS is working to make the 2019 conference as sustainable as possible.)
"We must unite as citizens and STEM leaders in the fight against climate change across the United States and globally. Honoring that belief, and in the spirit of the Hawai'ian value of Malama 'Āina ("to care for the land"), SACNAS is working hard to mitigate the environmental effects of hosting the 2019 conference on an island in the Pacific," said John D. Winnett, SACNAS Executive Director.
In addition to President Heine's opening keynote speech, this year's additional conference keynotes and featured speakers include a renowned group of multidisciplinary researchers, STEM leaders, and STEM diversity trailblazers.
To request media interviews, official bio, and/or headshot of President Heine, please contact Yamila Pino at yamila@prosperolatino.com or at 202-660-1433.
---
To commemorate that President Heine became the Marshall Islands' first female president in 2016, attendees who register in the next 16 days can use the code HEINE to get $20.16 off their registration. The offer is valid through 11:59PM HT, September 25, 2019.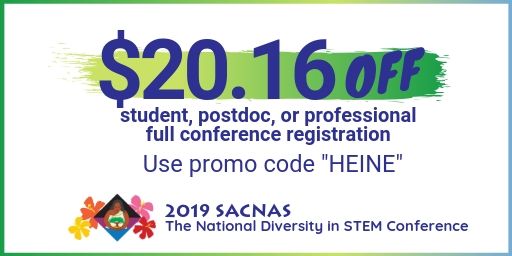 ---
ABOUT 2019 SACNAS – THE NATIONAL DIVERSITY IN STEM CONFERENCE
The largest multidisciplinary and multicultural STEM diversity event in the country, 2019 SACNAS – The National Diversity in STEM Conference serves to equip, empower, and energize participants for their academic and professional paths in STEM. From October 31 to November 2, 2019, college-level through professional attendees are immersed in cutting-edge scientific research and professional development sessions, motivational keynote speakers, a Graduate School & Career Expo Hall, multicultural celebrations, and an inclusive and welcoming community of peers, mentors, and role models. The conference is a training ground for the next generation of diverse STEM professionals, aiming to level the playing field for first-generation college students of color through mentorship, professional development, and networking opportunities. For more information or to register, visit www.2019sacnas.org/.
---
ABOUT SACNAS
For over 46 years, SACNAS has served as an inclusive organization dedicated to fostering the success of Chicano/Hispanics & Native Americans, from college students to professionals, in attaining advanced degrees, careers, and positions of leadership within STEM.
Today, the organization serves a growing community of over 20,000 supporters, 6,000+ members, and 115+ student and professional chapters throughout the United States and Puerto Rico. SACNAS influences the STEM diversity movement through STEM outreach & advocacy, promotion of STEM leaders, and The SACNAS National Diversity in STEM Conference. Learn more about SACNAS at sacnas.org, Facebook, or Twitter.