For immediate release:
October 3, 2023
Contact: Kelly Williamson – SACNAS Senior Manager, Communications & Marketing
kelly@sacnas.org
Awardees to be honored at SACNAS' 2023 National Diversity in STEM Conference in Portland, Oregon
SACNAS (Society for Advancement of Chicanos/Hispanics and Native Americans in Science) is pleased to announce the winners of the 2023 SACNAS Distinguished Awards. This year's two awardees have exemplified the SACNAS mission by showing unparalleled dedication to excellence in science, mentoring, and teaching. These outstanding individuals were nominated by those who have been touched by their work and selected by a committee of their peers. Awards will be presented with special tributes on Saturday, October 28 as part of the 2023 SACNAS National Diversity in STEM Conference.

Since the SACNAS Distinguished Awards program was initiated in 1997, the Society has honored over 130 scientists, educators, and program directors for their commitment to and personification of the spirit of the SACNAS mission: to foster the success Chicano/Hispanic and Native American scientists, from college students to professionals, in attaining attain advanced degrees, careers, and positions of leadership in STEM.

We are honored to present our 2023 recipients:
2023 SACNAS Distinguished Scientist Award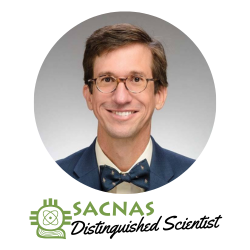 Santiago Schnell, Ph.D.

William K. Warren Foundation Dean of the College of Science, Professor of Biological Sciences, and Professor of Applied & Computational Mathematics & Statistics
University of Notre Dame
Santiago Schnell, Ph.D., on his achievement, "I am deeply honored to receive the 2023 Distinguished Scientist Award. It recognizes not just my scientific achievements, but also the value of the SACNAS community driving progress and innovation in our country."

Dr. Schnell earned his bachelor's degree in biology from Venezuela before completing his doctoral studies in mathematical biology at the University of Oxford in 2002.
Subsequently, he secured two prestigious research fellowships at the same institution before taking an assistant professorship at Indiana University in 2004. Santiago was appointed associate professor in the Department of Molecular & Integrative Physiology of the University of Michigan Medical School in 2018. He was promoted to full professor in 2015, followed by his appointment as department chair of Molecular & Integrative Physiology, a role he held from 2017 to 2021. Notably, in 2021, Santiago was appointed the William K. Warren Dean of the College of Science at the University of Notre Dame.

Santiago is internationally renowned for his pioneering research, which has significantly advanced our quantitative understanding of enzyme-catalyzed reactions. His most notable achievement is the formulation of the Schnell-Mendoza equation, a streamlined method for determining the physical constants of enzymes in both basic science and clinical laboratories. Furthermore, he has made significant contributions to the foundational enzymological quantitative model of the Polymerase Chain Reaction, an indispensable technique in the fields of life sciences, medical diagnostics, and forensic science.

Throughout his career, he has garnered numerous accolades for his research and teaching endeavors. These include the Arthur Winfree Prize and the Emerging Leader in Health and Medicine Award bestowed by the US National Academy of Medicine. His distinguished status is underscored by his membership as a fellow of the Society for Mathematical Biology, the Royal Society of Biology, the Royal Society of Chemistry, and the American Association for the Advancement of Science.


2023 SACNAS Distinguished Mentor Award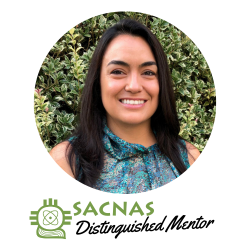 Paola López-Duarte, Ph.D.

Associate Professor
Portland State University
Dr. López-Duarte, on their achievement: "Like many of us who work in education, I deeply care about the students I serve and believe that becoming a good mentor is a lifelong process. This award is incredibly meaningful because it recognizes the dedication that so often goes unseen and is not necessarily captured in our job descriptions. It means the world to me to be seen by the students who nominated me for this award and by my fellow SACNistas who have given me the absolute joy of being this year's recipient."
Dr. Paola López-Duarte is a marine biologist and college professor who enjoys combining her research interests with a passion for teaching to support students in their journey to becoming scientists. Paola is a third-culture kid (TCK). She was born in the Dominican Republic to Colombian parents and lived most of her childhood in Bolivia. Having grown up moving from country to country as a child, she encountered both challenges and benefits. She attributes these experiences to teaching her the valuable skills of adaptability and forming connections with individuals from diverse cultures and backgrounds. Paola grew up knowing that she wanted to be a scientist, but it was not until she participated in research as an undergraduate student that she found her career path.

Paola graduated summa cum laude with a B.S. in Marine Biology from Florida Tech in 2003 and a Ph.D. in Biological Sciences in 2008. She was a Postdoctoral Researcher at UCSD's Scripps Institution of Oceanography in La Jolla, CA, from 2008 to 2010 and at the Rutgers University Haskin Shellfish Research Laboratory in Port Norris, NJ, from 2010-2011. She was promoted to Assistant Research Professor in 2011 and worked at the Rutgers University Marine Field Station in Tuckerton, NJ, until 2018 when she joined the Department of Biological Sciences at UNC Charlotte as an Assistant Professor. In 2023, she joined the Department of Environmental Science and Management at Portland State University as an Associate Professor.

Paola's research team focuses on the behavior and ecology of invertebrates and fish, especially the factors controlling larval dispersal from and recruitment to adult habitats. They combine field and laboratory approaches to quantify the contributions of nursery habitats within estuaries to marine populations. The work encompasses several research areas, including larval ecology; population connectivity; impacts of anthropogenic stressors on marsh communities; trophic ecology; and coupled bio-physical models. Paola teaches biostatistics to graduate students and undergraduate courses in ecology and marine science. Paola's dedication to research, teaching, and mentoring earned her the 2023 Integration of Undergraduate Teaching and Research Award from UNC Charlotte's College of Liberal Arts and Sciences.

Paola is committed to creating an inclusive environment that fosters academic growth and ensures the physical and emotional safety of faculty and students. She and her team of students work towards making sure positive research experiences are accessible to everyone. Paola has received several awards that recognize her efforts to promote women and members of underrepresented groups in science. She is the proud recipient of the Joan Bixby Women's History Award at Florida Tech, the University of California San Diego Equal Opportunity/ Affirmative Action and Diversity Award, and the UNC Charlotte Student Organization Advisor of the Year Award for her work as faculty advisor to the SACNAS Charlotte Chapter, which she helped establish in 2020.

Awardees will be presented awards and give acceptance speeches at the 2023 NDiSTEM Conference in Portland, Oregon Plenary Session and Closing Ceremony, Saturday, October 28, 3:15 pm - 4:45 pm, Local Time.
About SACNAS
For nearly 50 years, SACNAS has served as an inclusive organization dedicated to fostering the success of Chicano/Hispanics & Native Americans, from college students to professionals, in attaining advanced degrees, careers, and positions of leadership within STEM. Today, the organization serves a growing community of over 20,000 supporters including 9,000+ members, and close to 130 student and professional chapters throughout the United States including Guam and Puerto Rico. SACNAS influences the STEM diversity movement through STEM outreach & advocacy, the promotion of STEM leaders, and The SACNAS National Diversity in STEM Conference. Learn more about SACNAS at sacnas.org, Facebook, or Twitter.