Contact: Kate Rose, SACNAS Press Liaison
katherine.j.rose@gmail.com | (510) 821-2638
Villa-Komaroff to receive honor at 2021 SACNAS National Diversity in STEM Conference
SACNAS (Society for Advancement of Chicanos/Hispanics and Native Americans in Science) is pleased to announce the winner of the 2021 SACNAS Presidential Award, Dr. Lydia Villa-Komaroff. SACNAS Presidential Service Awards recognize members based on their years of continued contributions to SACNAS and are selected by the Board President. This year's awardee was selected by SACNAS President, Dr. Pamela Padilla.
The Presidential Service Award is meant to honor individuals that have demonstrated long-term commitment to the SACNAS mission. In 1975, Dr. Villa-Komaroff became the third Mexican-American woman to earn a science doctorate in the U.S. Shortly after earning her PhD, she was part of the team of researchers who discovered that bacteria could be used to generate insulin, a critical medication for the treatment of diabetes.
After her participation in the landmark research reporting the first synthesis of mammalian insulin in bacterial cells, Villa-Komaroff used the then-new molecular biology technology of recombinant DNA to address a number of fundamental questions in different fields, in collaboration with neurologists, developmental biologists, endocrinologists, and cell biologists. Villa-Komaroff's laboratory made several important contributions following the insulin research.
"Dr. Villa-Komaroff is a founding member of our organization, a constant advisor, and an inspiration to us all, myself included," says Dr. Padilla, "Personally, she has inspired me through her scientific research, innovative approaches, and leadership roles. Please join me in congratulating Dr. Lydia Villa-Komaroff as our Presidential Awardee for 2021!"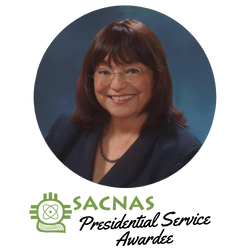 "It is a great honor to receive this award, which has been given to people I so greatly admire," says Dr. Villa-Komaroff, "Many of them were part of a band of young faculty who conceived of a society where Chicanos and Native Americans could support each other and who welcomed this cocky graduate student to that meeting in Atlantic City where SACNAS was born. At the same time, the work that this award recognizes is work that everyone in SACNAS is involved in, and that also makes the award an honor."
Dr. Villa-Komaroff's acceptance speech will take place on Friday, October 29, 2021 at 1:30pm PACIFIC/ 4:30pm EASTERN, as part of the Closing Ceremony and Native Dance Showcase at 2021 SACNAS National Diversity in STEM Conference. Learn more about 2021 SACNAS NDiSTEM here.
About SACNAS
For over 48 years, SACNAS has served as an inclusive organization dedicated to fostering the success of Chicano/Hispanics & Native Americans, from college students to professionals, in attaining advanced degrees, careers, and positions of leadership within STEM. Today, the organization serves a growing community of over 28,000 supporters including 8,200+ members and 133 student and professional chapters throughout the United States, including Guam and Puerto Rico. SACNAS influences the STEM diversity movement through STEM outreach & advocacy, promotion of STEM leaders, and The SACNAS National Diversity in STEM Conference. Learn more about SACNAS at sacnas.org, Facebook, or Twitter.